Cello Products was founded in 1946 in Cambridge, Ontario as a manufacturer of cast brass solder fittings. Wrought copper press fittings were added to the product line in 2011. Cello is 100% Canadian owned and produces an extensive line of wrought copper and cast brass solder fittings, in sizes ranging from 1/8" to 8".
Product Line:
Cello manufactures five general types of solder fittings: Wrought Copper Pressure, Cast Brass Pressure, Wrought Copper Drainage, and Cast Brass Flanges.
Cast brass solder fittings are made for both soft solder joining systems and silver braze joining systems. Cello also manufactures a portion of its cast threaded brass product line and does custom casting for special order fittings. Press fittings are available in ½" to 4" sizes.
Our products are used in plumbing, heating and related mechanical applications. Cello produces and distributes fittings ranging in use from underground water and gas services to water redistribution and air conditioning systems as well as drainage, waste and vent piping for use in residential, commercial, industrial and institutional applications.
Cello is the only full-line copper solder fittings manufacturer in Canada.
Highest Quality Design & Manufacturing
Cello Products' fittings are made from the highest quality raw materials available. Modern production techniques are used to ensure consistency and quality in our fittings. Cello employs fully automatic computer numeric controlled (CNC) lathes in its operations, and a large quantity of finishing machines are controlled with programmable logic controllers. Certain pieces of equipment have been commissioned with state-of-the-art computer controlled multi-axis positional controllers. Qualified personnel inspect and test our products to ensure that only the finest quality products are shipped to our customers. Cello's care in the design and production of all our products is exemplified in both our cast brass and wrought copper fittings.
All manufacturing is done in an 85,000 sq.ft. building located in Cambridge, Ontario which is ideally suited to serve Canadian and United States' markets. Cello's products are shipped to our customers in North America from ten warehouse locations to better serve our customers.
Quality Standards
Cello fittings are produced to meet requirements of all applicable standards wherever practical. Our facility is certified to ISO 9001:2015. All pressure fittings manufactured by Cello Products have CRNs (Canadian Registration Numbers) in accordance with CSA B51-95 Boiler, Pressure Vessel and Pressure Piping Code.
---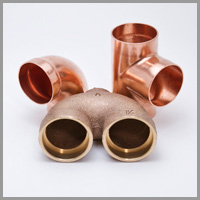 Here are some of the advantages Cello Products' solder fittings bring to the marketplace:
Cast brass and wrought copper fittings have proven in over 50 years of use to be the most economical and most trustworthy method of conveying liquids through copper pipe.
Cast brass and wrought copper combined with either soft soldering or silver brazing provide the strongest joint possible, forming strong intermetallic bonds between the fitting and the copper tube.
Both cast brass and wrought copper fittings produce smooth internal surfaces with maximum internal diameter to provide maximum flow.
Cast brass and wrought copper fittings are manufactured to rigorous specifications and generally exceed the physical properties of the copper tubing being joined.
Cello has the ability, with its very fast foundry turnaround time to satisfy urgent cast requirements literally within days of order placement.
Cello cast products can easily be made with silver brazing cups which result in significant reductions in brazing materials.
Cello can make cast fittings to suit customers' special needs as requested starting with Cello-made special patterns.
All fittings are made on modern equipment, making extensive use of programmable logic controllers, computer numeric controlled (CNC) lathes and multi-axis position controllers.
Cello is a vigorous solder fittings manufacturer, and we honestly consider our customers to be our most important reason for being in business.
All Cello fittings are conveniently bagged and boxed with every box containing a clear description of contents, quantity and bar coding for customer convenience.
Cello has invested considerably in its air and water emissions where 100% of all air emissions are captured in one of three bag houses or a wet scrubber, and all cooling water is now economically recycled rather than being discharged to sewers.